Boston University 2020 MFA Thesis Show Visual Identity

A team of four graduate students including Wei Yun Chen, Farinaz Valamanesh, Krystyn Wypasek, and myself created the visual identity system for the 2020 MFA thesis show in the College of Fine Arts at Boston University.
The Grid System and Conditional Design

Our team created a holistic and participatory system that fully represents all graduating Masters students from the programs housed in the School of Visual Arts. We built a custom 20x20 square grid with three layers of concentric circles layered on top that visually indicates the 40 students graduating from the three distinct programs, Graphic Design, Painting, and Sculpture.
The grid became the base for every part of the system. It was given to each student and they were asked to create a unique identifier. Below are some examples of how the students used the grid to design or draw their shapes.
The shapes made by each student come together to represent the entire School of Visual Arts graduate program across print and digital media.
The Typeface
The grid also became the basis for a set of custom typefaces we created for the shows. With such a complex grid, we were able to make dozens of different letterforms. From these, we chose three letterforms we liked best and developed them into full alphabets.
The typeface has three different weights that are layered on top of each other, a reference to our three programs housed in one school. The first weight is the heaviest and always appears on the bottom. The second weight features heavier terminals and thin strokes and appears in the middle of the layering. The third weight is the thinnest of all three and always appears as the top layer.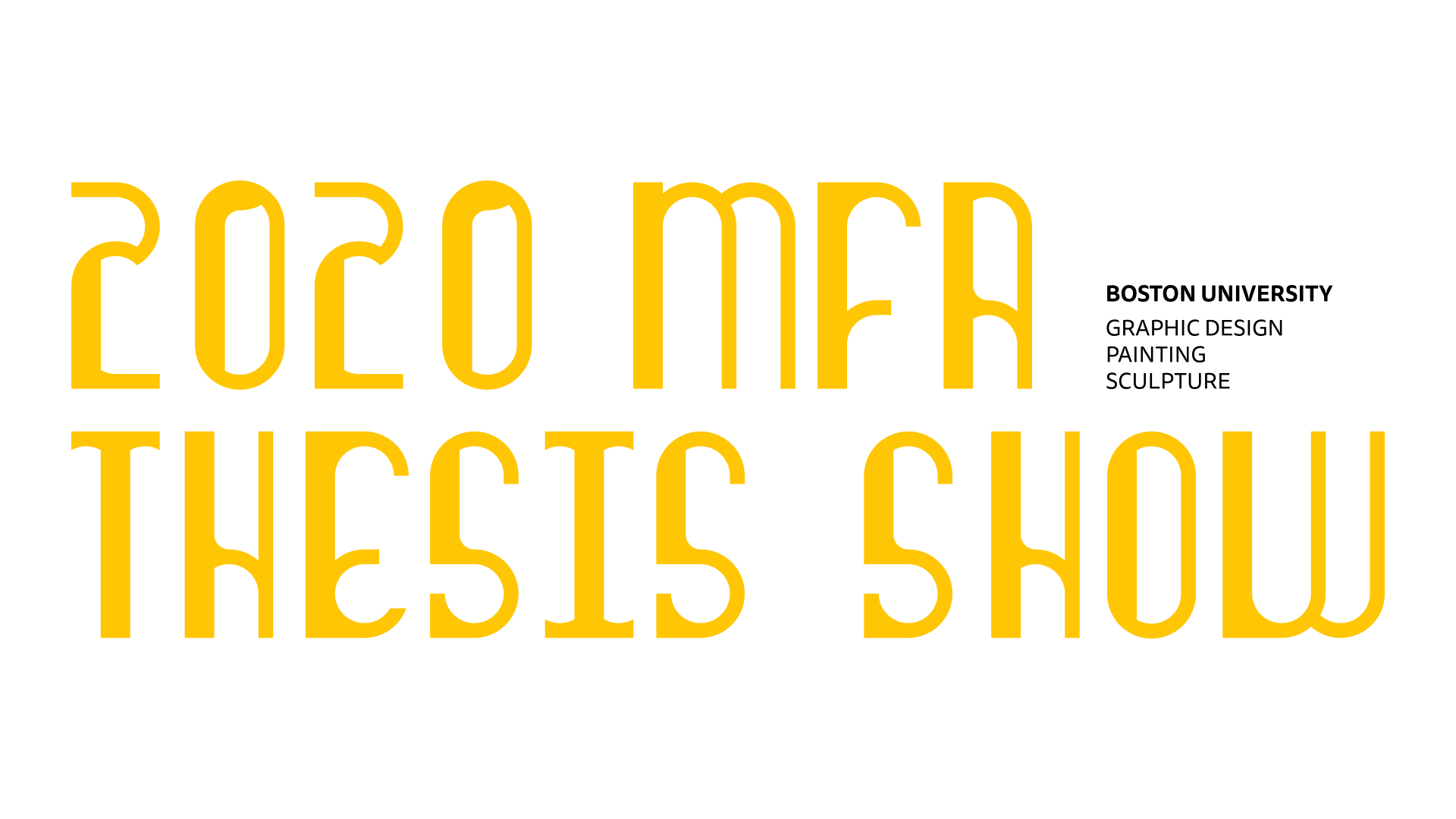 The Catalog
We took the the visual system we established and used it as the basis for the design of the thesis catalog, which showcases each student's work. For example, the first two pages of the catalog are printed on transparent paper, which allows the viewer to see all three weights of the typeface, and the list of students in each program, individually as well as together.
Photos by Wei Yun Chen
2020 MFA Thesis. Publication. 7 × 10 in.
Social Media and the Exhibition Website
With our physical thesis exhibition cancelled because of the global pandemic, it was more important than ever for us to establish an online presence so that student's work could be shared virtually. In the months leading up to the culmination of our program, we created an
instagram
profile to showcase work by each student. Every student has a post with their shape, and for those who submitted for instagram, images of their work are also included in the post. Posts were made every few weeks to count down to the launch of our exhibition website.
The 2020 MFA Thesis Show Website
serves as a virtual platform for students to showcase their thesis work in the absence of our physical show.